Soft thread sealants, no tape needed.
Often tape is used to seal pipe threads. This has to be done very precisely and takes a lot of time. On top of that, the tape could tear when the coupling is adjusted which can cause pieces of tape in the pipes and leakage.
The American company Gasoila has developed a series of liquid thread sealants. They come in plastic containers with a brush inside.
Nine types of thread sealants are available, suited for different applications as you can see in the product sheet below.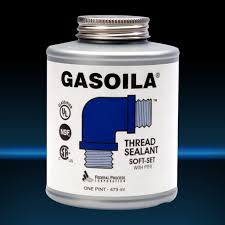 Downloads: